Peg Solitaire game, written in Basic circa 1988. It was written on the night before I pay a visit to a friend to exchange games.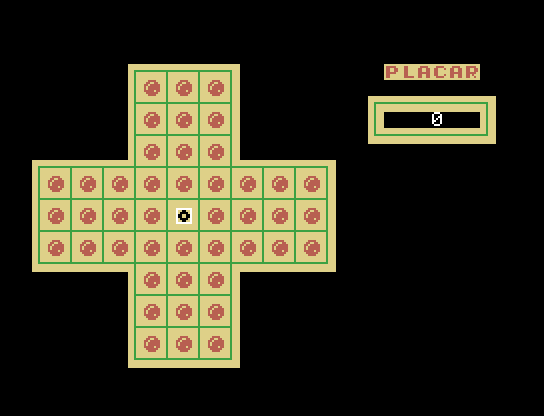 How to play
Move the cursor using the cursor keys and use SPACE to mark the Peg.
Once marked the Peg color turns black. Press DELETE if you want to un-mark the peg.
Then move the cursor keys again to the position where you want to move the peg and press SPACE again to remove the jumped peg.
An invalid jump is yielded by a beep.
If you run out of moves, press ENTER and you will be asked if you want to play again (answer S for Yes and N for No)
If you capture all pegs, the game will also ask if you want to play again.
To quit the game press ESCAPE.
| Attachment | Size | Downloads | Last download |
| --- | --- | --- | --- |
| resta1.zip | 5.6 KB | 14 | 2 weeks 19 hours ago |